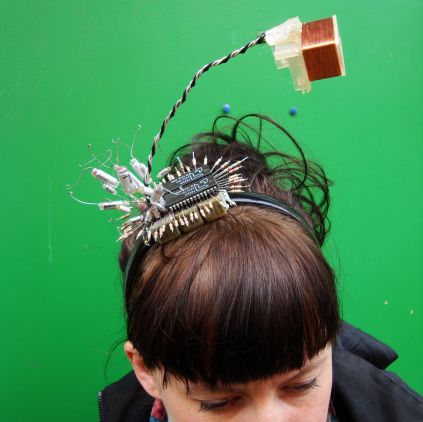 ROGER 10-4
Exploration of the body as space/surface of transmission and reception.
How does our interaction with our everyday surroundings change if our body becomes a point of reception. With mobiles, smartphones, iPads and laptops we become the central point of transmission and reception of electromagnetic waves. Our new skins composed of these numerous gadgets are constantly updated and outdated. The results are known, landfills of electronic and chemical waste. Roger 10-4 explores what can happen if we work with the refuse of planned obsolescence, more specifically the receiving components of those outdated objects, and re-incorporate these components into our attire; to make electromagnetic frequency receiving accessories.
What happens if we are listening to the waves we transmit and receive?
PROCESS
PROJECTS
CODE
US
--------
Body I/O
Body Receive
Body Transmit
received
and
understood
This work is licensed under a
Creative Commons Attribution-ShareAlike 3.0 Unported License
.
NEWS
Liwoli
Exhibition and workshop at
-----------
Workshop at
Residency at
-----------
Weise7
Napravi me
-----------
Workshop at
Piksel
Date: 10th - 13th June 2011
Location: REX,
Jevrejska 16, Belgrade
Date:12th - 14th May 2011
Location: Kunstuniversität Linz, Hauptplatz 8, 4020 Linz
Date: 5th - 14th July 2011
Location: Selchower Strasse 7, 12049 Berlin
Date: 17th - 20th November 2011
Location: Pikselhut, Georgernes Verft 12, 5011 Bergen
Workshop at

Eclectic Tech Carneval
-----------
Date: 20st - 22nd January 2012
Location: Museumskwartier, Raum D,
Vienna, Austria
Workshop at
Miss Baltazar's Laboratory
-----------
Date: 7th - 8th March 2012
Location: Kersnikova 6,
Ljubljana, Slovenia
-----------
Datenspiel/Dataplay
Date: 6th April 2013
Location: OCT-LOFT, Shenzhen, China
-----------
-----------
Exhibition

Date: 18th May 2013
Location: Kreuzberg Pavillon, Berlin
Love Bazon hate Brock
2013 ShenZhen Mini Maker Faire
Date: 19th to 26th of May 2013
Location: Frown, Ag. Eleousis 14
Monastiraki, Athens
curated by Daphne Dragona
4 workshops for the city of Athens
with Julian Oliver, Daniil Vasiliev, Gordan Savicic,
Sabrina Basten & Audrey Samson
Workshop

-----------
Exhibition

Date: 27th May to 7th of June 2013
Location: Hong Kong House, Sydney
Australia
Haptic InterFace
Exhibition

Transmediale 'Afterglow'
Date: 27th jan. - 2nd feb 2014
Location: Haus der Kulturen der Welt, Berlin
Germany